To a non-quilter all quilt shows are the same, right? To a quilter, all quilt shows are the same right? Just a bunch of old quilts hanging there while ladies in white gloves slap your hand if you touch them. 
NO, they aren't all the same. And the differences in the shows have been bothering me since last year, when I attended my first quilt show as a quilt show virgin. 
A little background on me for context. I learned to sew very young. Lots of sewists in my family. I only ever dabbled though. Then in July of 2015 after receiving a diagnosis of Tarlov Cysts that took pottery away from me, I bought a sewing machine and started sewing clothes. In July of 2016, I decided I wanted to make this elaborate quilt in memory of my Granny Love. I had NO idea what I was doing. Flat out. NO idea. I didn't even know what I didn't know. 
So, I decided to learn. I took a Craftsy class and decided to find a guild and/or some in person classes. In my Google search I found two groups. The American Quilters Society (AQS) and the Modern Quilt Guild (MQG). I had seen these magazines in my mother-in-law's home with beautiful quilts. I connected in my head that those were from AQS. They had a show coming up in Chattanooga, one of my favorite towns, so I followed the directions, joined up and registered for the event. I registered for a couple classes and I was stoked! In the meantime, I found the local modern guild on the MQG website and attended one meeting before I left for Chattanooga. 
As I walked in the door at the AQS Quilt Week - Chattanooga, I was in quilt show virgin awe... It was amazing. Beautiful quilts everywhere. Just like in the magazine. Detailed. Extravagant. Off the chain amazing! Vendors from actual quilt shops, selling fabrics and toys galore! I had no idea that some of those things even existed. For me the entire world of quilt "stuff" was learned from the ONE and only shop I had visited thus far. It is localish. My mom and I had been going since she purchased all the items to make my wedding dress 18 years prior. There are still the same directional cardboard signs hanging over various sections of fabric. No one has moved them in at least 18 years. Lots of additional cardboard signs telling you what NOT to do and why they tear their fabric. Cement colored cement everywhere. A number of unsmiling faces just there to cut fabric - nothing more - nothing less. Lots of rules. I just assumed that was life when shopping for fabric. 
Seeing all the vendors from actual quilt shops, with fantastic sample quilts in so many colors, was my first real glimpse into the world of colorful happy quilting. The vendors at Quilt Week had all the cool gadgets and gizmos and they couldn't wait to show me how they worked. I saw my first fat quarter bundle. I learned there was this type of fabric called "Moda." (Sure, looking back, Moda was at that localish shop, but buried under all that cardboard dictatorship.)  My classes were amazing too. I can still recite the entire transparency class I took with Karen Combs. I was having so much fun. I was there by myself, so I decided, what the heck, instead of going back to my hotel room alone, I would sign up for an evening lecture. Why not make the most out of my time, right?!?! WRONG! VERY WRONG!
Lots of things were said during the lecture, and I am sure they were of great importance, but my take away, "Quilting is dying!" 
Wait! What?!? 
"New people aren't quilting...quilt shops are closing...there are no new quilters..." Literally. I am not exaggerating or making this up! Actual things the lecturer was saying. I sat there thinking, "well, what the heck am I?" My quilt show virgin awe was crushed. By the time the lecture was over the bulk of the room was on the "my daughter doesn't want to quilt...I can't get my granddaughter to quilt...my guild is dying...my local shop just closed...those modern people don't care about quality or technique..." bandwagon. I was truly depressed. Actual depression. I called my husband. I called my mother. Seriously. How can this be? I was/am so excited to be a new quilter! 
Then my stubborn came out. I have always full steamed ahead at whatever is on my heart and brain, blindly ignorant of any obstacles, so why let this negativeness pull me down? I was there. I was young. I was learning. I was excited. I WANTED to learn! So that is what I projected and that is what I did! 
I returned home and life played on. I started attending the Modern guild. Learned from some of those ladies that there was also a more "traditional" guild. I joined. Why not? I figured those ladies had a LOT to teach me. More and more cross over between the guilds started to happen. I was excited! I had made it my private mission to help us all learn to appreciate each other. I created my tag line, "Old Soul. Modern Reality." I learned what a swap was. I learned what Instagram was (I am youngish...don't judge me.) I joined my first swap. A pattern for the swap popped into my head, and I stupidly created it. It caught attention on on Instagram and people were asking for the pattern. I started selling the patterns. I opened an Etsy shop.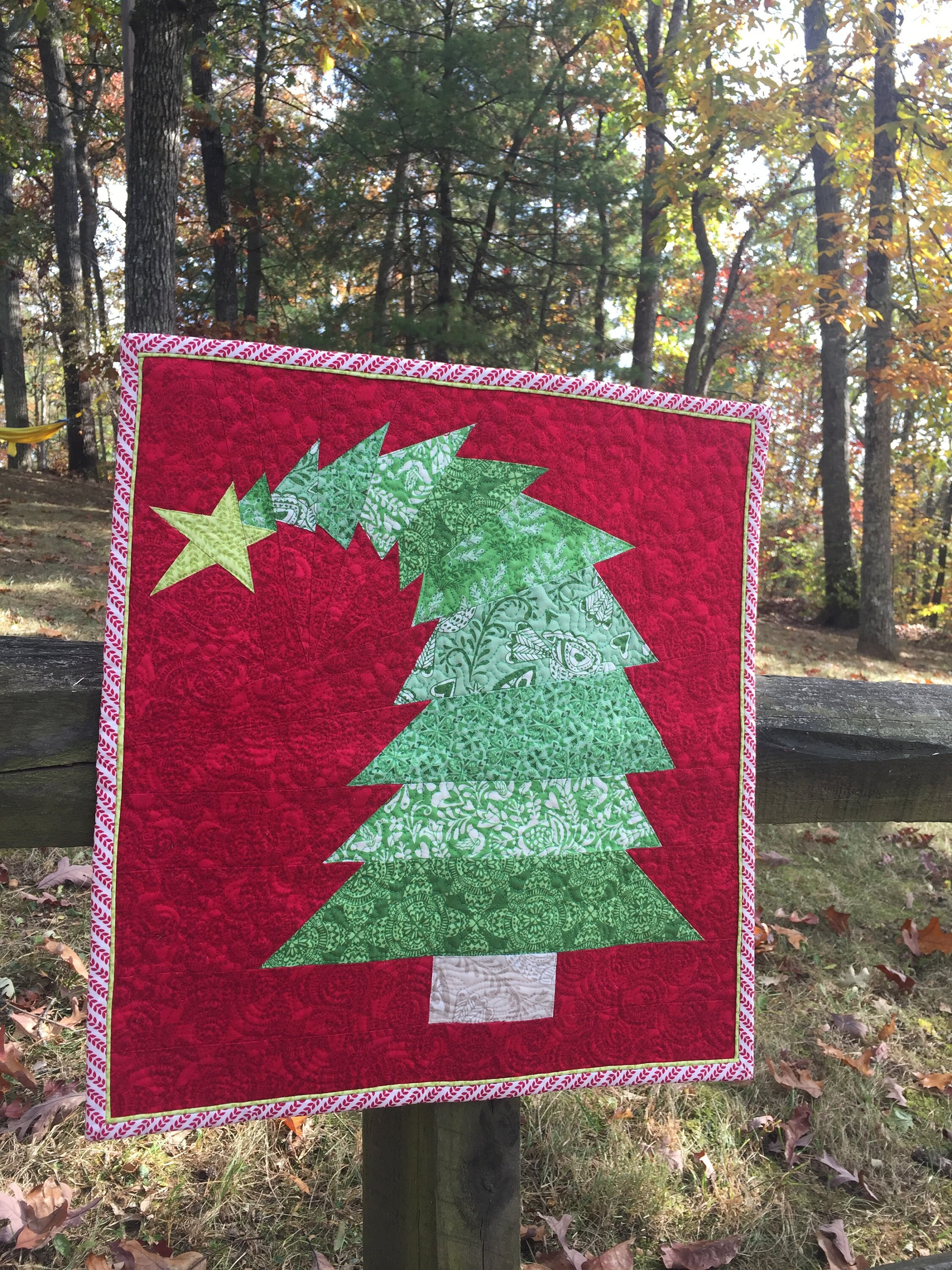 Then Quiltcon time came. A bunch of ladies were going. I took a chance. I didn't sign up right away, so I didn't get into a lot of classes, but a group of us got a house and went together. I was a little afraid of hearing that quilting was dying again. I had fashioned a little safe quilting world back home that wasn't dying. It was thriving and encouraging! It was Modern AND Traditional! It was awesome. They were my new and now closest friends. We sew together. Text daily about what we make at night while our children (or dogs) are sleeping. 
As I walked in the door of Quiltcon2017 in Savannah, GA, I couldn't believe it! 
Beautiful quilts everywhere - check. 
Ladies with white gloves - check. 
Excellent classes - check - but honestly, the level of skill from the AQS instructors was superior. Just my observation, and lets face it...they have been doing it longer. 
Vendors - Check - but instead of just mostly local shops, it was the manufactures and designers. Seriously cool. Free Spirit. Tula Pink. Cotton + Steel. Art Gallery Fabrics. Aurifil. Abby Glassenberg. Good heavens! It was sewlebrity city. Now, let me be honest. There were sewlebrities at the AQS show, I just didn't know who they were. I knew who these folks were because I am on Instagram - thanks to my modern friends. I wasn't before them. I wasn't before swaps. 
Large Group Swap - Not at AQS, but yes at Quiltcon. I met 4 ladies from Mexico City who made a modern pattern of mine and some used it for their Swap! It was crazy chaos, but awesome to see all those minis! 
Minis - Yes. Lots of Mini quilts at Quiltcon. AQS called them wall hangings. I heard someone make that distinction like it mattered. Does it, really? 
Lectures - check. But they were happy lectures, filled with excitement and joy. Filled with new possibilities. Lectures filled with what that depressing AQS lecture was longing for! People newly passionate about quilting! 
People passionate about quilting - check at both events! 
Quilt Police - Well, no, not at Quiltcon. Instead I heard things like, "a finished quilt is better than a perfect quilt." And here is one of the rubs as I see it. This whole idea that Modern people don't care about technique and traditional people are the quilt police. NO...stay tuned below for more from the third and last show I attended. 
In addition to the 8 of us from the modern guild that went together, a bus load of the traditional guild came down for a day as well. They had never been. Their first response, "Everyone here is happy. It is so colorful." This struck me. I felt the same way. 
LIfe continued on again after Quiltcon. I moved deeper and deeper into my love. I joined a local Longarm group. I sold some quilts to complete strangers. I won first prize for a quilt at a local juried art fair in my small town. I entered my first quilt into Quiltcon 2018 (Fingers crossed; still don't know if I made it.) I was introduced to more quilt shops across North and South Carolina, as my job has me traveling more now. My two favorites that are happy and cheerful when you walk in: Sew Much Fun and Calla Lily Quilts. Both very lovely shops with lots of modern AND traditional choices. 
And AQS announced a Fall-Paducah. Not Chattanooga this year. I was intrigued. I thought it was the "big" Paducah week. I didn't know any better. I also wanted to learn more about art quilting, and I found, Pam Holland, teaching a class. So I registered. My husband was my traveling buddy this time. We visited Handcock of Paducah. I know there is lots of hype with the AQS ladies, but I didn't get it. It felt a lot like the place back home with all the rules and cardboard signs. Even my husband commented that it didn't feel like a happy place. The employees were expressing frustration with all the people there. Hum. 
We ate REALLY well and I loved the Paducah Ambassadors. Paducah has it down! Then I walked into the National Quilt Museum and there it hung. The quilt that made me want to go!  Melissa Sobotka's Silk Road Sampler  (Click Here! Totally Worth It!) 
I just stood there. This quilt had hung in Paducah's AQS show 6 months earlier and won best in show. Y'all, it is breath taking. You literally have to remind yourself that it is NOT a picture. Quality - check. Technique - check. Magic - NO! Skill! Flat out eye for detail and skill. So many of the quilts felt that way to me. My class was delightful. The event was delightful. No manufactures/designers like at Quiltcon, but positive. Good. I even finished this Giraffe.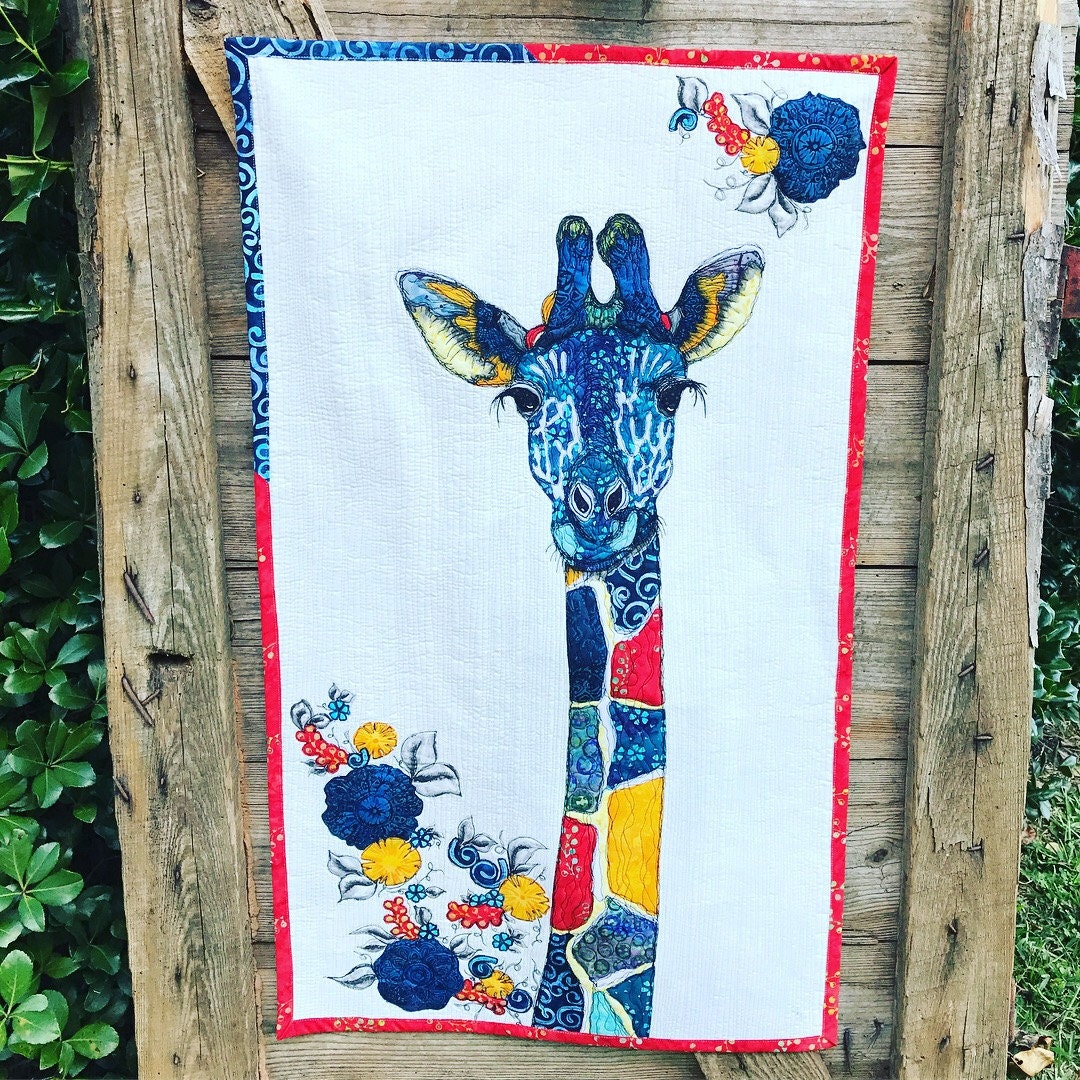 So, why does any of this matter to me? 
It matters becasue I realized that the AQS show was tanted for me by that ONE person's lecture! NOT the show! She started an "emotional mob" in that lecture. 
It matters, because it is getting to me that some people in the worlds feel they need to express little mantras like, "quilting is dying...modern people don't care about skill...no quilt police here..." 
Stop it already! Really, please...stop it! There is so much beauty in the creation process. The truth is, that we have forgotten who we are and/or we haven't taken the time to get to know each other. What if instead we filled our tongues with things like: 
- All quilters have something to learn. All quilters have something to teach. 
- No two quilter do everything the same. 
- Your level of perfection and skill needs to match your goal: gift for a friend, something you want to sell, show quilt, "fill in the blank." 
- All worlds, including the quilt world, are evolving; changing. That is not the same as dying. This is happening every where: government, churches, schools, towns, journalism, "fill in the blank." That doesn't make it bad. It is only bad if we ourselves don't embrace it and find the joy in it. Even rose bushes need pruning. 
- Lift up; don't tear down. Quilting will evolve if folks fill lifted up. My sweet Modern AND Devine guild friends lift me up all the time! I message them for help and advice. I love them! They make quilting amazing! They make it worth cutting up all that fabric and sewing it back together. They inspire me! 
We are all guilty of tearing down on some level - even if we are simply tearing ourselves down. What if we promise each other that for every negative we hear or say, we will replace it with two positives about our community - even the various sectors of our community? Wouldn't that make new quilters? Wouldn't that drive folks to our shops? Wouldn't that make people who don't quilt want to come be quilt show virgins for the first time? 
I think so!